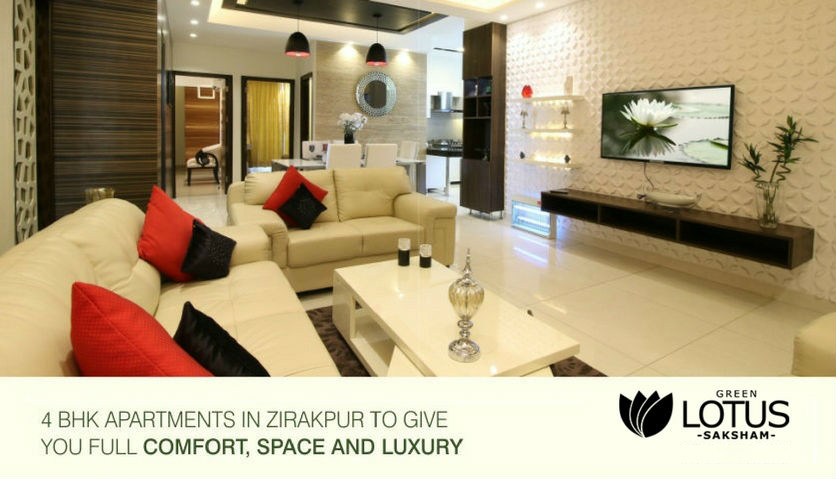 About the Project
Green Lotus Saksham is located at the very desirable address. Strategically positioned at Patiala Highway, Zirakpur,  these 4 BHK apartments in Zirakpur and their all other apartments are set to be a landmark development of Maya Builders. Maya Builders are known for quality and timely delivery of various commercial and residential projects. Today, Maya Builders has become one of the reputed brands in Zirakpur Tricity which is synonymous with trust, quality, luxury, style and innovation. Being one of the top construction brands, Maya Builders is backed by the extensive list of real estate projects that not many can offer. The 4 BHK apartments in Zirakpur are believed to be one of the best creations of the Maya Builders. This project is loaded with lots of modern day amenities including swimming pool, world-class gymnasium, jogging track, intercom facility, etc. It also offers spacious 3, 3+1, 4+1, 5, 5+1 BHK apartments and penthouses with all the basic amenities. The project consists of various other facilities like vastu compliance units with well-defined floor plans.
Specifications and amenities of 4 BHK apartments in Zirakpur
Every 4 BHK apartments in Zirakpur includes 4 bedrooms and 4 bathrooms with a living room, dining room, dressing area and kitchen. Every bedroom is very spacious with the dimensions ranging from 15 by 13 feet approx to 12 by 16 feet, 11 by 16 feet and 12 by 12 feet respectively. Whereas the dining/drawing room is almost 24 by 16 feet wide. The two balconies are 14 by 5 feet and 5 by 11 feet respectively. Surrounded by lush green landscapes, greener environment and a brilliant neighborhood, these 4 BHK apartments in Zirakpur carefully combine luxury and comfort. Green Lotus Saksham offer homes to suit your lifestyle with a range of large and spacious rooms. This is the perfect home for families looking for a dream home. Equipped with all the upward moving society needs, this project is also rewarded with IGBC Gold Certification to encourage the practice of sustainable living. It has all the green highlights including rainwater harvesting, water efficient fixtures, soil conservation, recycling are just to name a few. Besides the expansive aerial view of the city, these apartments are made to be energy efficient and sustainable construction to maximize the impact of natural light and improve the indoor air quality. This project lets you choose your perfect living space without compromise.
Green Lotus Saksham is well positioned as the premium address apartment that is thoughtfully created for stylish living. Each apartment faces the open green area whilst ensuring the privacy for each home. Articulate landscaped areas and a soothing dip in the pool with a matchless combination of stimulating workout at the clubhouse gymnasium provides you the excellence in every endeavor. This project ensures that you live safely with your family by creating spaces that are resistant to earthquake. Moreover, this project has some of the basic club facilities like yoga centre, party hall, library and a room designated for playing games like card, carrom, pool and billiards. Rising amidst green environs, Green Lotus Saksham is the region's first green residential project in Zirakpur. It is not only innovative and quality driven, but also fulfills the commitment of providing you with an environment conducive to living well. Providing all the amenities under one roof, it allows you to live a convenient and comfortable lifestyle with your family. Maya Builders have developed numerous extraordinary infrastructures with the matchless combination of a brilliant location. All of their projects are well surrounded by better landscapes, beautiful neighborhood and an eco-friendly environment with good transportation cum conveyance facilities around.
Why Green Lotus Saksham?
Well connected by all the sides like expressways, ring road and public infrastructure, Green Lotus Saksham offers ease of accessibility to major destinations. Apartments in this project possess unique traits, including, 24 hour multi-level security, better indoor air quality, environmental friendly & sustainable, well-defined ecosystem, safe kids play area, elderly friendly areas and premium lifestyle at affordable pricing that has no parallels for value housing. Besides these, energy efficient construction ensures low cost of living with higher resale value. All in all, with all the top of the line amenities: convenience, security and connectivity, Green Lotus Saksham sets a new benchmark to be the preferred residential designation for aspiration home and apartment owners.
For more information, Call us at +91 9569111222
Read Blog Detail