Set in Zirakpur, Green Lotus Saksham is the crown project of Maya Builders that comes with the perfect mix of state-of-the-art amenities and a panoramic view of the vast expanse extending over almost 12 acres. This project has the finest apartments in Zirakpur to let you enjoy a world of unimaginable luxury where you'll be naturally ushered in with appropriate style. With its ultra-modern facilities set in 341 units, 11 towers and 13 floors, Green Lotus Saksham is all set to raise the bar for a limitless living.
About the project
Green Lotus Saksham is a RERA approved residential project in Zirakpur built with a key focus of creating eco-friendly homes that leave less carbon footprint as well as are high on energy conservation, leisure, savings and wellness. So that its residents can live a life in tune with the green needs of modern world.
Location and amenities
Green Lotus Saksham is strategically located at Patiala Highway, Zirakpur and is situated just 15 mins away from the Chandigarh. Designed to offer you the dual benefits of nature and luxury and encompassing world-class amenities, it is designed to evoke a nostalgic mood. Its 3, 3+1, 4 and 5 BHK apartments and penthouses offer modern amenities with facilities for Wi-Fi, gymnasium, swimming pool, badminton court, jogging track, rain water harvesting, green club house, etc. Green Lotus Saksham is a true indulgence to your senses, with its contemporary designs, incorporated with a sense of pride and belonging to a world of infinite experiences. The large landscaped gardens make way to offer an unobstructed view of lush green spaces.
Concept and design
Green Lotus Saksham ups the ante for limitless living with the rain water harvesting and sewage water treatment plants to live harmoniously with Mother Nature and instill virtues among its residents. Be it solar panels, eco-friendly construction or jogging tracks surrounded by lush greens, here every facility reflects the sense of commitment to the green lifestyle. Residences at Green Lotus Saksham will cater to the needs of residents, used to living in congruence with beauty and tranquility you would never want to leave.
Types of Floor Plans in Green Lotus Saksham
3 BHK apartments and penthouses:
The 3 BHK residential apartments at Green Lotus Saksham, Zirakpur have super built-up area of 1906 sq ft. with 3 bedrooms, 3 baths and 1 store room. This floor plan includes one master bedroom of 12 by 15 feet wide and living cum dining room of 23 by 13 feet. Moreover, there are three balconies attached to every bedroom. To provide you extra storage space, there is one store room that helps you store goods, supplies, or junk things for their ready availability and use in an emergency.
Spread over an area of 1906 sq. ft., 3 BHK penthouses stretch the limits of luxury living to the heights of satisfaction. This floor plan comprises of 3 bedrooms of approx 11.4X14.9 feet, 11X11 feet and 11.4X12.5 feet respectively. The living/dining room is 23 by 13 feet thus providing enough space to create truly an experience that is beyond compare.
3+1 BHK apartments and penthouses
Built in a carpet area of 1346 sq. ft. and super area of 2335 sq. ft., 3+1 BHK apartments come with sophisticated interiors and timeless design appointed with every luxury. This floor plan consists of a living cum dining room of a size about 27X14 feet.
3+1 BHK penthouse creates a serene experience with a large terrace area of 2335 sq. ft to let you and your family enjoy the good times. These penthouses give you an incredible feeling of living in a private space. With a living/dining room of 27X14 feet wide, it exudes a tasteful blend of modern convenience with an embellishing artwork.
4 BHK apartments and penthouses:
With a super built-up area of 2809 sq ft., 4 BHK residential apartments in Zirakpur are an ideal choice for large families or group of friends. Every bedroom is thoughtfully designed to make you wake up each morning relaxed and contented. These residences create a serene experience to rejuvenate you with its distinctive flair for the grandest comfort.
4 BHK penthouses at Green Lotus Saksham have an open, huge terrace spread over an area of 2809 sq. ft. There is even one separate bathroom on a terrace to let you enjoy hosting parties without any inconvenience.
5 BHK apartments and penthouses:
5 BHK's at Green Lotus Saksham have a super built-up area of 3361 sq ft. and carpet area of 2006 sq ft. Each bedroom carries a dimension ranging from max 12 feet long to 17 feet wide. Whereas the dimension of drawing cum dining room is 23X17 feet wide. It also includes two utility rooms and one store room. While the one utility room is 19X4 feet wide, the other is 4X8 feet wide.
5 BHK penthouse consists of a huge terrace with an area of 1906 sq. ft. It invites you to have an informal gathering to ensure your every celebration transcends the normal.
Most of all, due to the higher resale value and cost savings on energy, these apartments in Zirakpur are the best investment opportunity in Tricity.
For more information, Call us at +91 9569111222
Read Blog Detail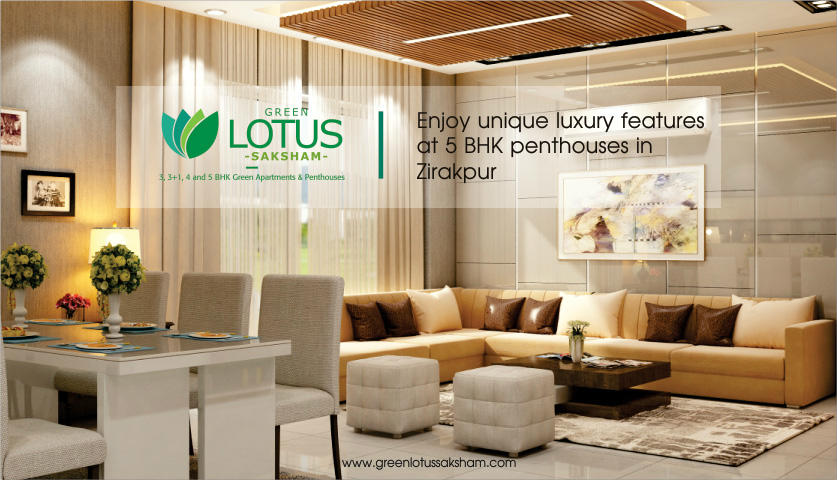 Showcasing the height of new luxury construction in some of the most sought-after locations, let's explore exclusive 5 BHK penthouses in Zirakpur.
Strategically located on Zirakpur-Patiala Highway, Green Lotus Saksham has been thoughtfully designed to create a relationship with the natural landscape, surrounded by beautiful views. It provides the perfect balance between suburban tranquility and styling, with everything in easy reach, and more.
Settings are unique and vivacious at these penthouses, ranging from more square footage to swimming pool, roof top terrace and resort style amenities. 5 BHK penthouses in Zirakpur sets a new standard for premium lifestyle living.
Peaceful and Clutter-Free
All thanks to the location, penthouses are quieter and clutter free than ordinary apartments. The noise and bustle of the city barely reach that high and you can enjoy your solitude without any disturbance. Moreover, there's no issue of noisy upstairs neighbors. One of the perks of owning a penthouse is the elevated height that ensures unmatched privacy.
Seamless Integration between Inside and Out
The interior design of each 5 BHK penthouse delivers a sense of immense luxury and sophistication. Whereas the fine detailing adds elegance to every space, thus creating a perfect blend of styling and timelessness. A modern and seamless integration between the indoors and out is kept through Floor-to-ceiling double-glazing opening towards the balcony and courtyards. So as to make sure that natural light and a landscape is the major attraction for each and every kind of lifestyle.
Unrivaled Facilities
This luxurious 5 bedroom penthouse is for the discerning wanting a lifestyle with shopping, restaurants, and numerous entertainment options at your doorstep. It all comes up to the incredible rooftop terrace that is spread over 3361 Sq. Ft. of the area, including a lounge and a swimming pool that all take in the astounding city views.
Added Exclusives
Be it about unreserved maximum natural light or an excellent ventilation – a penthouse has everything. Furthermore, the layout of a penthouse is usually different from the rest of the apartments to give you added space. As penthouse occupies the entire floor, there's no problem of wall-sharing. In some cases, separate entrances are also an added exclusive.
No Home Heating Required in Winters
This is a less evident advantage of living in a penthouse. You are going to pay less to heat your home in winter, since your home is located on the top, the warmth generated by lower apartments in the building will naturally rise up and heat your penthouse as it does so. You don't need to pay anything extra, which will help make the heating bills more manageable in the months of winter.
Wrap up
A penthouse is a favorite choice for those who wish to have a spacious outdoor area without spending much on buying a large house with a garden or yard. Despite, one prefers to choose a penthouse that includes a large terrace and possibly some far-reaching unobstructed views.
This contemporary form of housing is in high demand as many new developments are being built with more emphasis on making penthouse a remarkable dwelling for the potential proud owners of the best unit.
Most 5 BHK penthouses in Zirakpur are regarded as up-market properties due to their outdoor space, views and extra effort that is put into the finishing and furnishing of the property. Penthouses are indeed all-rounders, providing space, light, outdoor area, privacy and most importantly, luxury and style.
Read Blog Detail