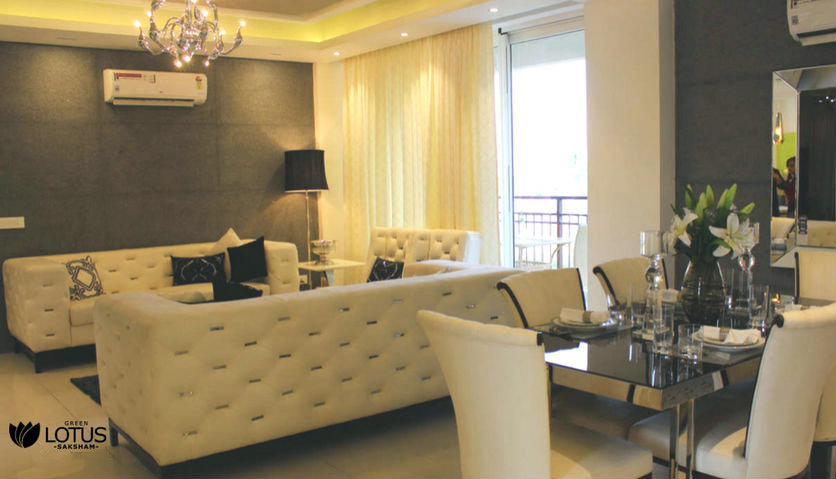 If you want to make a balanced and well-appointed living room in your flat, then you need to make an arrangement that marries all the elements together beautifully and could also be achieved on a budget. The idea should fit with many different styles and should help to create a stylish room in no time. So, given below are few points that are universal and could apply to the living room of your flat in Zirakpur too!
Divide up Visually
To help create cozy spaces, divide up your living room visually. You can add half walls, ceiling beams, or you can also use area rugs, wallpapers, curtains and furniture placement. Even chaise lounges, large lamps, a sofa, a large bench, tables between chairs, an attractive screen, plants or curtains can help divide the spaces.
Build a Gallery Wall
Buy a large open bookcase as a focal point for the room or you can also build the gallery wall yourself. And if your flat in Zirakpur comes with the shelves built into a wall of living room, you can make the most out of it by adding design elements and color. It is also an ideal place for plants, photo frames, books, knick-knacks and anything else that brings your own style and appearance to space.
Use a Bold Rug
As there is a trend of open living spaces, it is possible that your living room is more like a big open space that also consists of a dining area. No matter what kind of space you've, any living area should be aided by first laying down a rug. You can certainly choose a rug that's more appealing to you. But, the most important thing is to pick a rug that makes a bold statement, be it with color, pattern or texture. It doesn't matter even if your living area is already carpeted, the rugs work over the carpet as well.
Make Difference with Lighting
Irrespective of the size of your living room, lighting can make a difference in how the room feels. It is fortunate that with large living rooms such as at any flat in Zirakpur, there are often more windows. So, during the day lighting isn't as much of a concern. But at night, shadows and dark corners can make you little uneasy. You will add more light with lamps if you have just one ceiling light in the center. Even too many lamps can make living room awkward. Hence, choose only two or three lamps of bigger scale with similar shades and then
Create a Furniture Layer
Choose a mix of complementary but different furniture styles to ensure that the furniture is an elegant backdrop for accessories, but not a boring matchy-matchy look. If your flat in Zirakpur has an open floor plan, get a lounger that not only adds yet more seating, but also elevates the space with its classic design. A glass top adds just the right amount of structure to space. If you want to spend less money, choose the pieces that sport different but complementary styles and shapes. Go for a range of neutral colored upholstery rather than just one color.
Achieve a Greater Impact
If the coffee table is not big enough for your space, you can bulk it up with two matching square or rectangle couches side by side. Bring together four chairs and table rather than just two chairs. Chairs are less visually isolating in a room in comparison to a sofa. So, it creates a pleasing flow and conversation area in different spaces with challenging traffic patterns. For a greater impact, you can use several of anything such as two lamps, double footstools, or chairs set.
Balance with curves
However, curved elements are not required for every living room. But, if you still want to counteract the straight lines of furniture, you should first take a look at your space and when you're done, see if it could benefit from any round accessories. Use round shapes that stand in stark contrast to the straight lines of your furniture, thus adding visual softness. Make the best use of the design principle of balance and visual symmetry. Your whole living room should feel good.
Add in Personality
If you don't want to have a living room that looks like it's from a catalog, ensure you mix in one-of-a-kind finds such as vintage, family heirlooms and plant life. Like for an idea, use a pair of antique side tables that contrast beautifully with the straight lines of the modern furniture. You can even add in a more unexpected look by the symmetrical use of the side tables. As this will help spread the vintage vibes and keep the space from appearing stuffy.
Cozy up with Color and Pattern
Use color and pattern to break up big wall expanses in a great room or cut the tall wall down to a more comfortable height. Apply wainscoting with different shades of neutrals or colors similar to molding. For a high ceiling, try a simple trick to cozy up your room- paint the ceiling a shade or two or several shades darker than your walls. After this procedure, your ceiling won't seem as tall and your room might feel more snug and cozy.
Avoid Excessive Wall Hanging
It is really funny to see a large living room with the sofa pushed back against one wall and the chairs on the opposite side against the other wall. This leaves excessive open space in the middle. Your furniture will be too far apart, which will force you to shout in order to have a conversation with someone sitting across from you in the room.
A larger living room offers you a benefit to pull seating out from the walls and create a much cozier conversation area around a focal point. Don't be afraid of empty walls as can use cover the wall space with for art, buffets, consoles, benches, bookcases, etc.
Whether you need your very first home or are relocating to the area, Flat in Zirakpur at Green Lotus Saksham would love to be your dream home. Are in search of premium flats in Zirakpur?
To learn more about our apartments, visit us online or give us a call at +91 9569111222.
Read Blog Detail