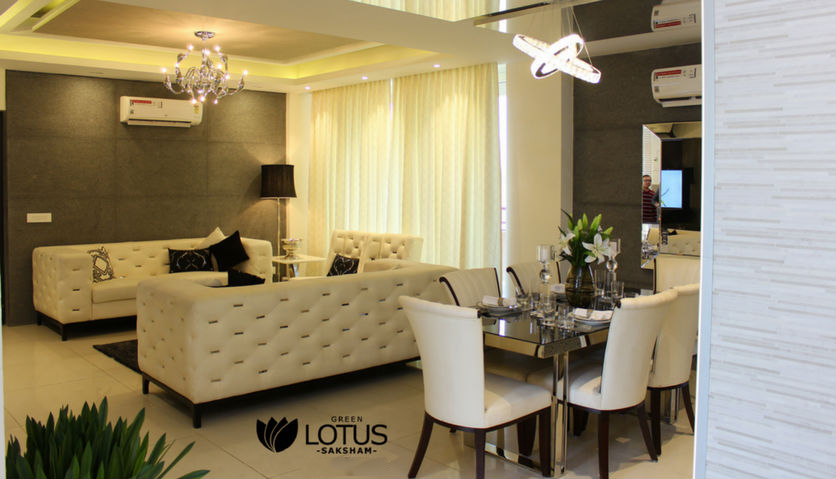 Popularly known as a satellite town, Zirakpur is located near Chandigarh and is the most promising location away from the stresses of living. Zirakpur has evolved as a fastest growing hotspot for residential and commercial developments which hosts some of the popular malls, top hotels and prestigious learning institutions. It is also emerging as a prominent location for IT and manufacturing. As so many politicians, wealthy personalities and business officials are living in this city, the Green Lotus Group decided to come up with luxurious penthouses to offer such people with super premium facilities. Their previous project named Green Lotus Avenue also featured penthouses which not only noticed high flying sales but became the most obvious choice due to its major attractions like eco-friendly concept, luxury and space. And now again, the Group has been successful in creating a buzz with its more improvized version of penthouses in its new project Green Lotus Saksham. Especially, the 4 BHK penthouses in Zirakpur are selling at a very fast rate. So, this post will give you an in-depth look at why people really like this specific luxurious segment.
Locational Advantages:
Green Lotus Saksham is strategically located on Zirakpur-Patiala Highway, which is a popular location among residents as well as youngsters who love to buzz in and around pubs, hangouts, multiplexes, shopping malls and commercial outlets. As this project is set on NH-7 and is well connected to NH-5 and ring roads, this location offers a high accessibility to adjoining cities like Chandigarh, Panchkula, Mohali and popular hill stations such as Himachal Pradesh, Shimla, Manali, etc. This area is flush with the best infrastructure facilities and has a close proximity to public transport systems like Railway Station and Airport. Aerocity road connectivity to NH-7 is the key factor that makes this location score well and makes it easily approachable to the airport.
High Style, High Rise Exclusive Living:
The 4 BHK penthouses are basically luxuriously fitted apartments on the top floor of a tower. These penthouses are simply impeccable incorporating the very best of international class design and facilities. They represent a unique combination of five elements- style, comfort, elegance, convenience and amplitude for you. With unparalleled views, luxurious ambiance and a private terrace, this collection of penthouses by Green Lotus Saksham capture the essence of living the high life in these ultra-luxury high rises.
Not to mention that, with such highly equipped, spacious and exquisite penthouses, buyers no longer have to compromise with their peace and privacy.
Sprawling over 12 acres, these opulent 4 BHK penthouses in Zirakpur are a part of township consisting 11 towers, 341 units along with all the conveniences that can be typically differentiated from the luxuries offered by other townships.
4 BHK Penthouses Configuration
The 2,809 sq. ft. the penthouse comes with a host of exotic finishes and features. The penthouse has 4 bedrooms, 1 drawing cum dining room, 5 baths, 4 balconies, 1 store room and 1 dressing room. A spacious and expansive terrace area enhances the already panoramic views fostering an ideal space for relaxation and entertainment with your family. A swimming pool is also present on the terrace so that you can take a quick dip and rejuvenate your senses. At this heavenly abode, you'll feel like floating on your own personal cloud of exclusiveness at one place.
Here your journey into ultra-posh begins on the top floor where you step off the elevator onto your private foyer. To your right is the huge living room of size 23 feet long and 17 feet wide, that is very spacious and big enough to fit whatever you like. There is a dining room capable of hosting over 15-20 guests and an eat-in-kitchen with an island. The master bedroom has a big dressing room so that you're always guaranteed to leave the penthouse as rich as you feel.
Designed to be at one of the lands and offer a life less ordinary, the 4 BHK penthouses in Zirakpur are filled with peace and seclusion at a place where the majesty and charm magnifies.
Premium Complex with World-class Amenities
Distinctive architecture, oversize residences and ultra-luxe services here turns these penthouses into high-net-worth communities, with amenities fostering social interaction. This is why people call these penthouses, among the most innovative developments in India. The next generation of in-city penthouses – which is almost 90% sold- presents unrivaled vistas and more than 12 acres of interior and exterior luxuries. Few of them are a well-equipped gymnasium, cafe lounge, multi-cuisine dining, jogging track, sports arena and a green clubhouse.
From the moment you arrive at the Green Lotus Saksham, the elegance and sophistication reign, from class and comfort to amenities worthy of a five-star resort. Start your day in the state-of-the-art yoga center, enjoying cocktails poolside while catching the cool breeze under sun deck. Premium interior finishes and spectacular exterior views fuse together to create a comfortable home with fabulous elegance. And these 4 BHK penthouses in Zirakpur are notably created for those who appreciate exquisite design, luxurious appointments and eco-friendly lifestyle.
Rising thirteen stories above the ground, these penthouses reflect top-of-the-line finishes in every unit. A tranquil atmosphere and relaxed feel of this area make the building a peaceful and sophisticated retreat, with the option to take advantage of the Zoological parks, world-class dining venues and bars nearby.
Located on the 13th floor, living in these 4 BHK penthouses in Zirakpur let you enjoy your privacy. As it is right on the top floor, this space is more quiet and exclusive where you can also stay away from the bustle and noise of the lower floors. Even these penthouses are better than living on the ground floor or the first floor. You can also wish to keep your windows open without any need to worry about peeping toms or neighbors trying to pry. Moreover, the elevated height provides optimum solitude within the urban chaos.
The best part about living in the penthouse is that you get bragging rights! Amidst luxury, enough space for roof-top parties, all that light and fresh air, lots of glass doors and windows through which to enjoy it and everything one may desire.
Read Blog Detail