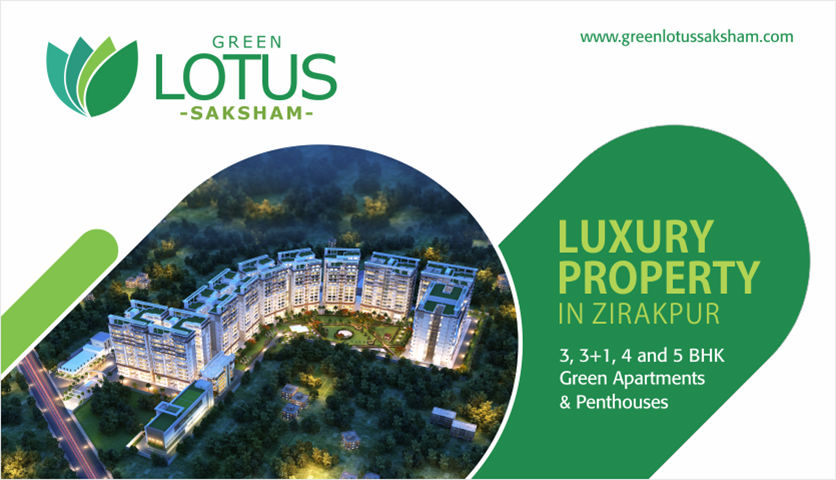 Green Lotus Saksham is an eco-friendly yet luxurious project in Zirakpur giving new real estate goals to investors as well as buyers. After Green Lotus Avenue, this is another jewel in the crown of Green Lotus Group that has been known to come up with a luxury property in Zirakpur extending over almost 12 acres and not to be missed state-of-the-art amenities.
With its contemporary features set in 341 units, 13 floors and 11 towers, Green Lotus Saksham is all ready to set new benchmarks for a limitless living.
Everything You Should Know about Green Lotus Saksham
Green Lotus Saksham is a RERA approved luxury property in Zirakpur designed with a key focus on making eco-friendly homes that leave less carbon impression and are high on energy conservation, saving funds, wellness, and leisure. So its residents can enjoy the luscious green belt of apartments in zirakpur giving your upcoming generation a better life and home.
Location and Amenities
Green Lotus Saksham is strategically situated at Patiala Highway, Zirakpur and is only 15 minutes away from the Chandigarh. Crafted to offer you the dual advantages of nature and extravagance world-class amenities, it is designed to evoke a nostalgic state of mind.
Its 3, 3+1, 4 and 5 BHK luxury property in Zirakpur and penthouses offering modern facilities with Wi-Fi, swimming pool, badminton court, running track, rainwater harvesting, green clubhouse, gymnasium, and so on. Green Lotus Saksham is a true indulgence to your senses. Built with the modern facilities, it offers a sense of pride of living at a place that is close to nature and away from pollution.
What Makes Green Lotus Saksham a premium living option-
Indoor Swimming Pool
At Green Lotus Saksham, you can leave all your stresses while getting a charge to enjoy and relax in the Indoor swimming pool. What's more, you can ask from a property that let you swim away your blues whilst staying within the premises? 24X7 accessibility to swimming pool will rejuvenate your senses whenever you feel over-stressed or want to have a pool party with family.
A Sports Arena
Designed to match the worldwide standards, a sports arena at Green Lotus Saksham gives you the finest quality of space to enjoy a session of a pool, billiards, card, carom, tennis, squash and more.
Party Hall
You do not need a 5-star inn when you have an option of hosting a party at a party hall of Green Lotus Saksham. With an intricately designed party lobby, it is ensured that each festival over here would double your fun and enjoyment.
World-Class Exercise Room
With the world-class exercise rooms at Green Lotus Saksham, you can watch your fitness level take off. This exercise centre is only a stage far from your home so that you can simply go for exercising whenever you feel like.
All such features show that this luxury property in Zirakpur are the perfect choice for those willing to invest in a lavish lifestyle.
Some Extraordinary Features:-
Resources Conservation:
Green Lotus Saksham believes in resources conservation through rainwater harvesting, energy efficient home appliances, solar panels, etc.
Eco-friendly Construction:
By constructing a building in compliance with IGBC standards, the Green Lotus Saksham venture has set another benchmark in the real estate sector.
Lush Green Landscaping:
The first sight of extraordinary landscapes, bending and dipping around the Saksham's towers could leave you confused. With colorful blossoms, lush greenery, agreeable outline and more, the landscape expanse is an oasis of the beauty of excellence.
Put simply, GLS is an ideal example of luxury property in Zirakpur that accomplish all the desires of modern home buyers.
Read Blog Detail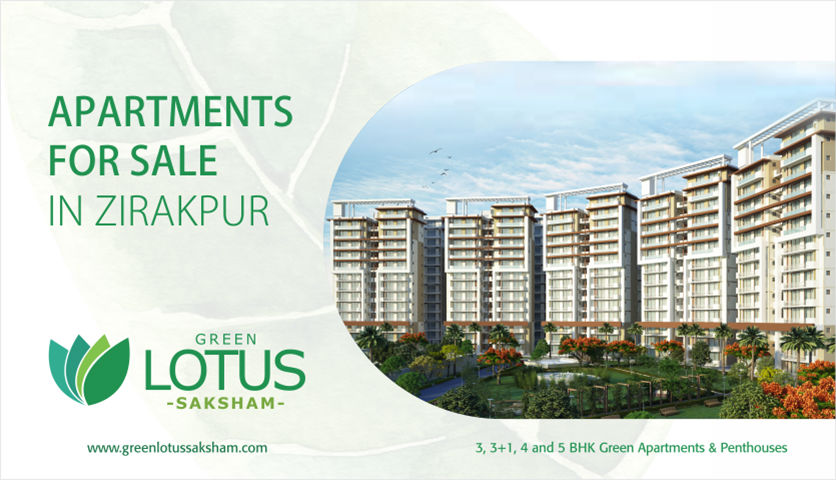 Green Lotus Saksham is an amazing & luxurious property designed to complement a contemporary lifestyle with its all modern features. If you are looking for flats for sale in Zirakpur, it brings you an exclusive assortment of real estate, including 3 BHK, 3+1 BHK, 4 BHK, 5 BHK flats. The property is in luscious green area to keep you close towards nature. Breath fresh and live a life with all comfortable is the sole idea behind the property.
This is an ambitious project named as Green Lotus Saksham giving wings and reality hint to the dream of many – owning a comfortable and stylish house of their own.
It is in the prime location that makes this property more demanding and a must have home. It lies in close vicinity to Zirakpur-Patiala National Highway, Chandigarh International Airport, and the Chandigarh-Delhi Expressway is also close to this project. Moreover, it is quite well connected to rest of the regions by road, railways, and airway. It is close to a number of educational institutes, schools, multiplexes, shopping malls, entertainment zones, hospitals, etc., to perfectly satisfy the urge of owning a modern well-connected house.
So, it is an ultimate choice for those, who are seeking flats for sale in Zirakpur.
Don't miss this golden real estate opportunity!
What Make Green Lotus Saksham Apartments a Dream Property?
The Green Lotus Saksham is featured with amazing and extraordinary specifications as well as amenities making it a profitable deal.
It surpasses all the important and foremost parameters in the terms of luxury and space with a hint of contemporary designs and structure.
The flats are crafted by using sustainable construction technique and eco-friendly materials to stand out from the other properties. If you are looking for flats on sale in Zirakpur or real estate deal that can be called a sound investment move, this is the one to go for.
The development of the property is stretched over 12 acres of land, which contain 7 towers, 13 stories and 341 units. The measurements of these flats in Zirakpur and penthouses begin from 1906 sq. ft. to 3361 sq. ft. The designs are flawlessly planned for the utmost space consumption and are admirably arranged with properly placed windows and spacious balconies. While the list of the luxurious rooms combines living space, room, store room, dining area, wash room, toilets and pooja room. If your idea is to look for apartments on sale in Zirakpur, you have n-number of options. But, in case you want to invest or live comfortably, this property is for you.
The modular kitchen is like the icing on the cake. It is featured with stunning granite counter top and beautifully covered with coated tiles to a 2 ft. of piece level. The flooring of the flats in Zirakpur is finished utilizing vitrified tiles. Now this is what your dream would have surely comprise.
Core Idea Behind the Property
The foremost and the incredible idea behind the construction of Green Lotus Saksham is to offer residents with Green Homes. It is built under the shadow of Indian Green Building Council, IGBC. Each apartment at Green Lotus Saksham helps in both resource conservation and energy in order to create a healthy environment that is sensitive to air quality, acoustics, lighting, and aesthetics.
This is one-stop destination for all those home seekers, who are searching for apartments on sale in Zirakpur. The property has also been evaluated as well as assigned Gold Rating because it follows the water conservation and utmost environmental practices of energy
Amenities of Green Lotus Saksham Making this Property Sell like Hot Cakes
Green construction
Buildings are constructed in compliance with IGBC standards, this project has surely set up new benchmark in real estate sector.
Swimming Pool
You can enjoy with your family and friends in the swimming area and pool. It is available 24 24X7 so that you can enjoy anytime. Generally, there are a number of flats for sale in Zirakpur, but finding a property like Green Lotus Saksham is a tough row to hoe.
Party Hall
Well, no doubt these day almost all properties have party hall, but this property has something extraordinary to offer. It is massive, modern and cozy at the same time. It ensure that every celebration is vibrant, happy and spacious.
A Sports Arena
This area is designed and built to match the standards of international sport arena. You can enjoy a thrill game of billiards, carom, tennis, pool or squash.
Well, the list of amenities is endless and this make it a perfect property investment for all.
Green Lotus Saksham intensely defines every core aspect of living a modern life. The property is designed by popular designers making it a dream to possess.
This is a perfect choice when it comes to finding flats for sale in Zirakpur.
Read Blog Detail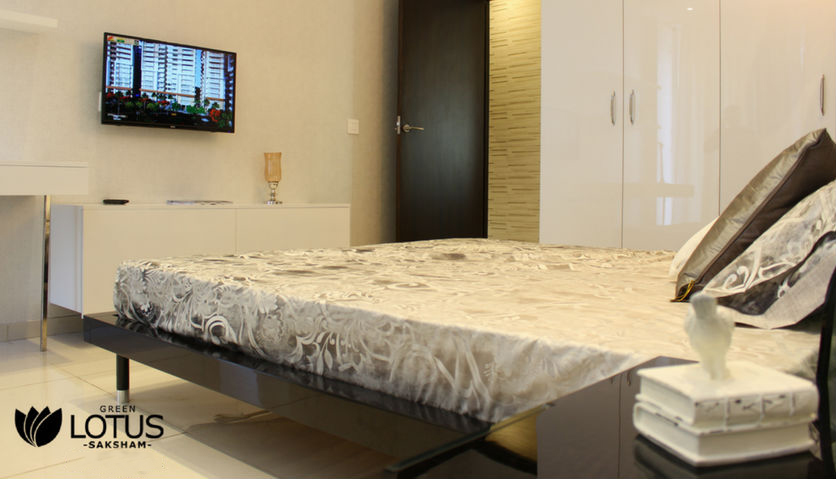 Seeing the current health issues due to the toxic environment, people are now looking for a better environment for their families in order to avoid the perceived downfalls of the big cities. These downfalls include, congested space, heavy traffic and the lack of greenery. All such issues have identified why more families are choosing apartment living, especially because of the lots of benefits to their health and well-being.
The issue of better living is important as a modern lifestyle in big cities is no more safe or practical, and this is perhaps an eye-opening fact or also the major reason for changing the preference of people and have an urge to lead a healthy lifestyle during apartment living. Whereas it is also undeniable that modern lifestyle has led to health problems, destruction of natural ecosystems and excessive consumption of resources. And this is exactly where Green Lotus Saksham apartments in Zirakpur are envisaged as a perfect example. This post will show how Green Lotus apartments can help you find true happiness and a healthy lifestyle.
Easy Access to Amenities
When people live in urban environments, they often have to give up the dream of living close to entertainment and leisure places. But, this is not true when you opt to live at Green Lotus Saksham. As Green Lotus Saksham is a well-planned township, families can anytime have access to playgrounds, pools, gymnasium, cafe and lot more. Also, being prominently positioned on Patiala Highway, Zirakpur, Green Lotus Saksham is just a few steps away from shopping malls, night clubs, bars, movie theatres, children parks. All such things are enough to keep you encouraged because they are close by and they let you avoid the option of hibernating inside the home.
More Time Outdoors
If you live in an open, lush green landscaped township equipped with jogging tracks, yoga and meditation center, you walk, jog, exercise more and spend more time outdoors. And it also becomes exciting for your kid to be able to walk out the front door and get himself someplace on his own, without having to get himself locked inside the home. That is one thing we don't really consider, how this ability to move around freely gives children more autonomy and self-confidence.
Reduced Energy Consumption
It goes without saying, that Green Lotus Saksham apartments in Zirakpur are designed to be eco-friendly and helps in reducing energy costs. These apartments are constructed with advanced energy sensitive and eco-friendly techniques like the use of well insulated materials, power solar cells, rainwater harvesting, energy efficient appliances, water efficient fittings, etc. to ensure higher energy efficiency while lowering the energy consumption.
Importance of Different Experiences
Nowadays, many families stress the importance of experiences. And Green Lotus Saksham create that experiences and better opportunities to conveniently access the great public spaces like popular tourist places, parks and others to interact with a diverse range of people. Having the freedom to move around via multiple transportation modes, you no more have to get tied with your car. So you will always have the excitement of different experiences and meeting right people on the street.
Good Exposure to Building Connections
Expanding on the above idea; as you and most importantly, your kids are exposed to more people, each one of you will have more opportunities to enhance social skills and as well as develop a better understanding of diversity. This will also help in learning to be engaged with neighbors and others, which as a result will develop a skill to view people with more understanding and acceptance.
Final Note:
By far the biggest benefit of living at Green Lotus Sakhsam is that it is a thoughtfully designed township with quiet, open spaces around. To incorporate the ample greenery within the township, a large percentage of open space has been left. This, as a result, offers fresh air to breathe. And the most of all, this place has no traffic, which means there is no pollution and thus no toxic environment like big cities. It's a place where your children can grow up with. It endows holistic living experience with amenities that redefine community living and celebrates the unity and diversity of lifestyle and culture.
Furthermore, apartment living at Green Lotus Saksham assures to provide not only all the essential amenities within the four walls, but also gives you the advantage of living in the area of the city where the excellent social infrastructure is present. In short, Green Lotus Saksham weaves together all the essentials of a lifestyle that promotes health and well-being.
Read Blog Detail